Abhinav Jindal, founder of Kimaya Himalayan Beverages, outlines the company's growth trajectory
What is your impression of the response to craft beers?
The craft beer industry in India is still in its nascent stage, but it is exhibiting positive indicators of expansion. The global trend towards craft beer is starting to take hold in India, and this presents a significant opportunity for the industry. Unlike developed economies, where the craft beer movement has been established for over a decade, India is experiencing high double-digit growth in the craft beer category compared to a lower double-digit growth in the overall beer market. This indicates that the craft beer industry in India is experiencing a strong upward trend and is expected to continue this path in the future. The surge in the demand for craft beer offers possibilities to innovate and introduce new products in various categories, as well as to redefine existing categories in the competitive market space. This creates a lot of opportunities for innovation and differentiation within the industry, which will further drive growth and create more choices for consumers. Overall, the craft beer industry in India is poised for substantial expansion, and businesses that can tap into this trend and create exciting new products will be well-positioned to capitalise on this opportunity.
Do you feel consumers will go back to regular beer as compared to strong beer or is it only millennials?
The market trend indicates that consumers generally prefer stronger beer over milder ones, and this preference has been evident in the high growth rates of the premium, stronger beer category. With the availability of better-quality products in the stronger beer category, consumers are more likely to stick with their preference for stronger beer, and therefore, it is unlikely that there will be a significant shift in consumer preference towards milder beer.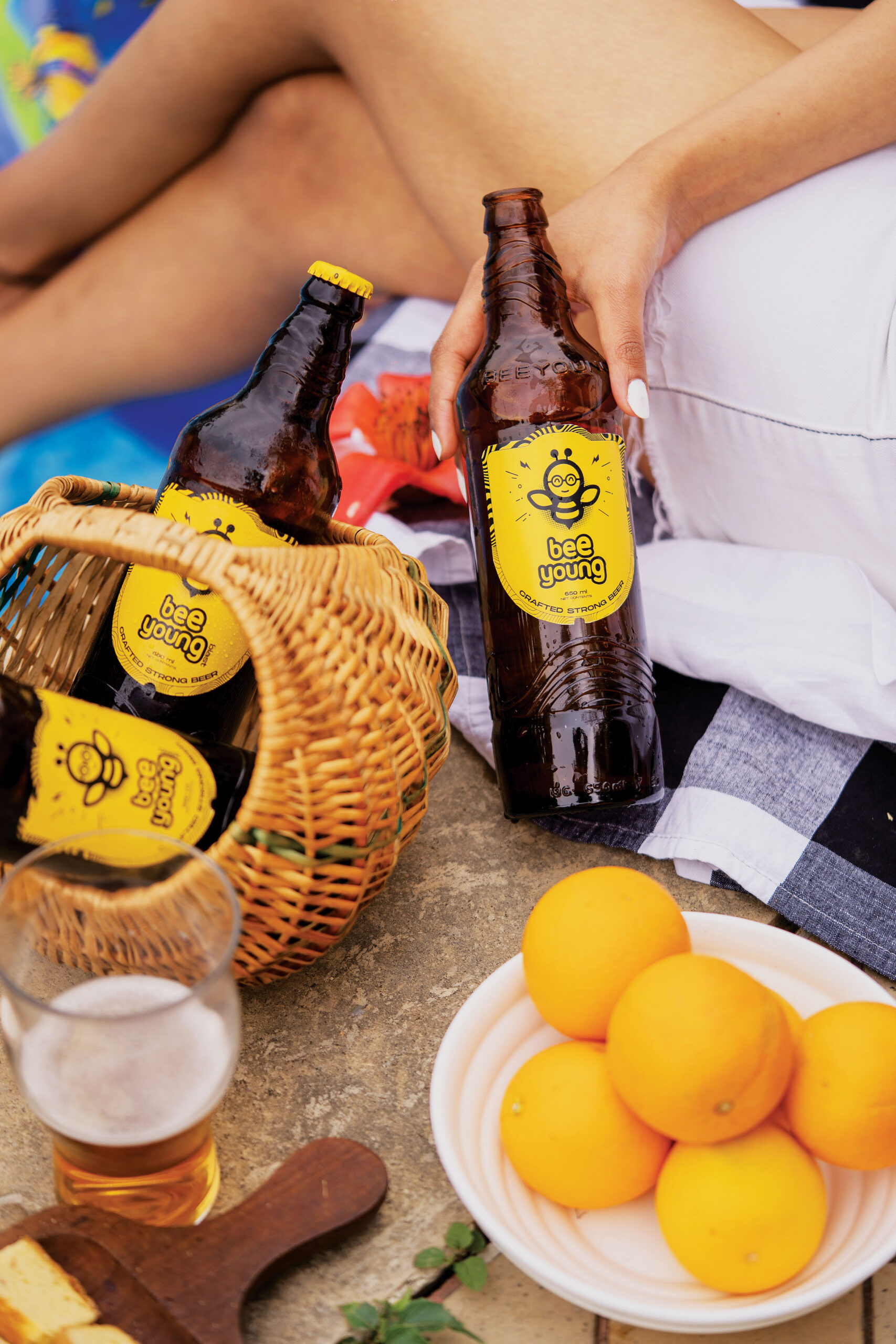 What are your plans for the summer season – new launches, and promotions?
We have some exciting developments this season. Firstly, we have introduced a newer bottle packaging for BeeYoung Strong 650 ml bottle, which is a one-of-a-kind innovation that is unprecedented in this industry. It is highly likely that this packaging has not been seen before in the market. Moreover, our team is actively working towards launching BeeYoung in Himachal Pradesh to mark our market presence. To further enhance our product offerings, we plan on introducing new variants in premium segment with unique flavour notes to the Kimaya's profile, likely to be launched in a couple of months. On the marketing front, we have launched an exciting summer campaign that will be visible both digitally and on the ground. This campaign is designed to be fun and engaging, and we are actively seeking out opportunities for collaborations and event sponsorships that align with the spirit of the summer campaign in the near future.
How would you describe Kimaya Himalayan Beverages' remarkable journey from being the latest entrant in the market just before the pandemic to becoming a company worth over 100 crores in just one year of full operation?
The pandemic has caused significant disruption in the industry, particularly impacting small businesses and homegrown brands. Despite the uncertainties and obstacles caused by the pandemic, BeeYoung, which was launched in September 2019, has managed to stay resilient with a mindful approach and strategic resource allocation. Through proactive market analysis, the company has taken effective measures to reach its sales targets and develop a robust strategy for expansion into larger markets. As a result, BeeYoung achieved a remarkable milestone by dispatching 1,00,000 hectolitres of beer in its first year of full operation, experiencing an impressive growth rate of 129%. The brand has also successfully established itself in Delhi, Uttar Pradesh, Uttarakhand, Punjab, and Chandigarh and is now focussed on expanding into other states. To meet the increasing demand in its existing markets, Kimaya Himalayan Beverages is increasing its production capacity, reaffirming its commitment to meeting its customers' needs.
How has the company ensured enhancing product availability in the existing market, diversifying the product range, and venturing into new regions across the nation.
To enhance product availability in the existing market, Kimaya Himalayan Beverages has established partnerships with distributors and retailers to ensure that its products are widely available. The brand has successfully established its presence in multiple regions of North India including Delhi, Uttarakhand, Punjab, and Uttar Pradesh. To diversify its product range, the team is working on introducing new variants with distinctive flavour notes to cater to the changing tastes of consumers. We are working on strengthening the foothold in North India by expanding into new regions and states, such as the upcoming launch in Himachal Pradesh. We have also invested in marketing campaigns to raise brand awareness and attract new customers. Overall, we have taken a proactive and strategic approach to enhancing product availability, diversifying its product range, and venturing into new regions across the nation. These efforts have helped us to grow.
What is the industry overview on alcobev category – the shifts and trends?
The alcohol beverage category has undergone significant shifts and trends in recent years. One of the most notable changes is the growing consumer interest in healthier and low-alcohol options. Consumers are more health-conscious and looking for beverages that align with their wellness goals. This has led to an increase in the demand for low-alcohol or non-alcoholic beverages, such as hard seltzers and non-alcoholic beers. Another trend in the alcohol beverage industry is the rise of craft and artisanal beverages. This has led to an increase in the number of craft breweries, distilleries, and wineries, as well as a growing interest in local and regional products. Finally, sustainability and environmental concerns have become increasingly important to consumers, and brands are responding by prioritising sustainability in their operations and products. This includes using eco-friendly packaging, reducing waste, and sourcing ingredients from sustainable sources.
Overall, the alcohol beverage industry is evolving rapidly, with a focus on health, quality, sustainability, and innovation. Brands that can adapt to these changing trends and meet the evolving needs of consumers are likely to succeed in this competitive market.
What steps are being taken to ensure Sustainability in the alcohol and beer industry: Innovative approaches towards environmental responsibility?
The alcohol and beer industry are taking various steps towards ensuring sustainability and environmental responsibility. These steps include implementing sustainable sourcing practices, using eco-friendly packaging, conserving water, reducing energy consumption, and minimising waste. Companies are exploring innovative approaches towards sustainability, such as using renewable energy sources, investing in water-saving technologies, and using waste-to-energy technologies. The industry is responding to the growing consumer demand for environmentally responsible products and operations. By prioritising sustainability in their operations and products, companies are demonstrating their commitment to social responsibility and ensuring long-term success in the competitive market.
How would you describe the Science of Brewing: The chemistry behind a 'Perfect Pint'?
Brewing is a complex process that blends the art and science of beer-making. It involves a variety of chemical reactions that transform simple ingredients such as water, malt, hops, and yeast into the diverse range of beers we enjoy today. The science of brewing entails understanding and manipulating these chemical reactions to create the desired flavour, aroma, and appearance of beer. However, creating the perfect pint requires not only scientific knowledge, but also artistic skill. Artistry in brewing involves being artisanal and selecting the right ingredients in the desired quantities. It also involves carefully combining the ingredients without adding concentrated hops, colour, or flavour. The art of brewing complements the science, which includes determining the appropriate temperature to boil, ferment, and so on. Understanding the chemistry behind brewing is essential for creating a satisfying and enjoyable drinking experience that caters to the diverse preferences of beer drinkers worldwide. In summary, brewing is a delicate balance of science and art that requires skill, expertise, and creativity to produce a perfect pint.
What can you do to make the industry more circular?
To make the beer industry more sustainable and reduce waste, adopting a circular approach is crucial. At Kimaya Himalayan Beverages, we have taken steps to minimise our environmental impact by recycling the used bottles. Additionally, breweries can use sustainable ingredients such as organic and locally sourced grains and hops, as well as switching to renewable energy sources like solar or wind power to reduce their carbon footprint. Breweries can also reduce packaging waste by using biodegradable materials. Furthermore, minimising packaging waste by using lightweight materials or reducing packaging size can be another effective approach. Lastly, partnering with local farmers to source ingredients can reduce transportation emissions and support the local economy. Adopting these circular approaches can significantly reduce waste, promote sustainability, and help create a more environmentally friendly product. As businesses, we have a responsibility to act towards becoming more sustainable for future generations.
How would stress the importance on the Art of Beer Labelling: Design Trends and marketing strategies?
In the beer industry, the art of beer labelling is a crucial element that plays a vital role in attracting and retaining customers. A well-designed beer label not only conveys essential information about the beer, such as its flavour and ingredients, but also serves as a marketing tool that sets the brand apart from its competitors. As design trends in beer labelling continually evolve, companies are embracing creative and eye-catching designs that appeal to a broad range of consumers.