Working in a bar is a great career option for anyone with a creative mind and a drive to learn. The preconceived notion that bartending is a man's field has been thrown out of the window in the past decade, with women from different social, cultural and academic backgrounds having set the standard high in this industry, by leading some of the best bars, discovering and creating new drinks and whatnot. This International Women's Day, we're celebrating some of the top female mixologists from India, who despite the challenges, have broken barriers and showcased their excellent skills behind the bar.
Shatbhi Basu
An alumnus of IHM Mumbai, Shatbhi Basu went on to carve out an illustrious career in bartending and was awarded by the President of India and the Ministry of Women and Child Development as India's first woman bartender. With an experience of over three decades, Shatbhi runs her own bartending academy in Mumbai called Stir Academy of Bartending. She conducts various workshops across the country and tries to keep this art alive among women. She also authored the first comprehensive guide to alcoholic beverages and cocktails relevant to Indian conditions called 'The Can't Go Wrong Book of Cocktails', and has hosted and created India's first TV show on cocktails & more – 'In High Spirits' on NDTV Good Times. Shatbhi was appointed the first American Whiskey Ambassador, India from 2013 – 2016.
Ami Shroff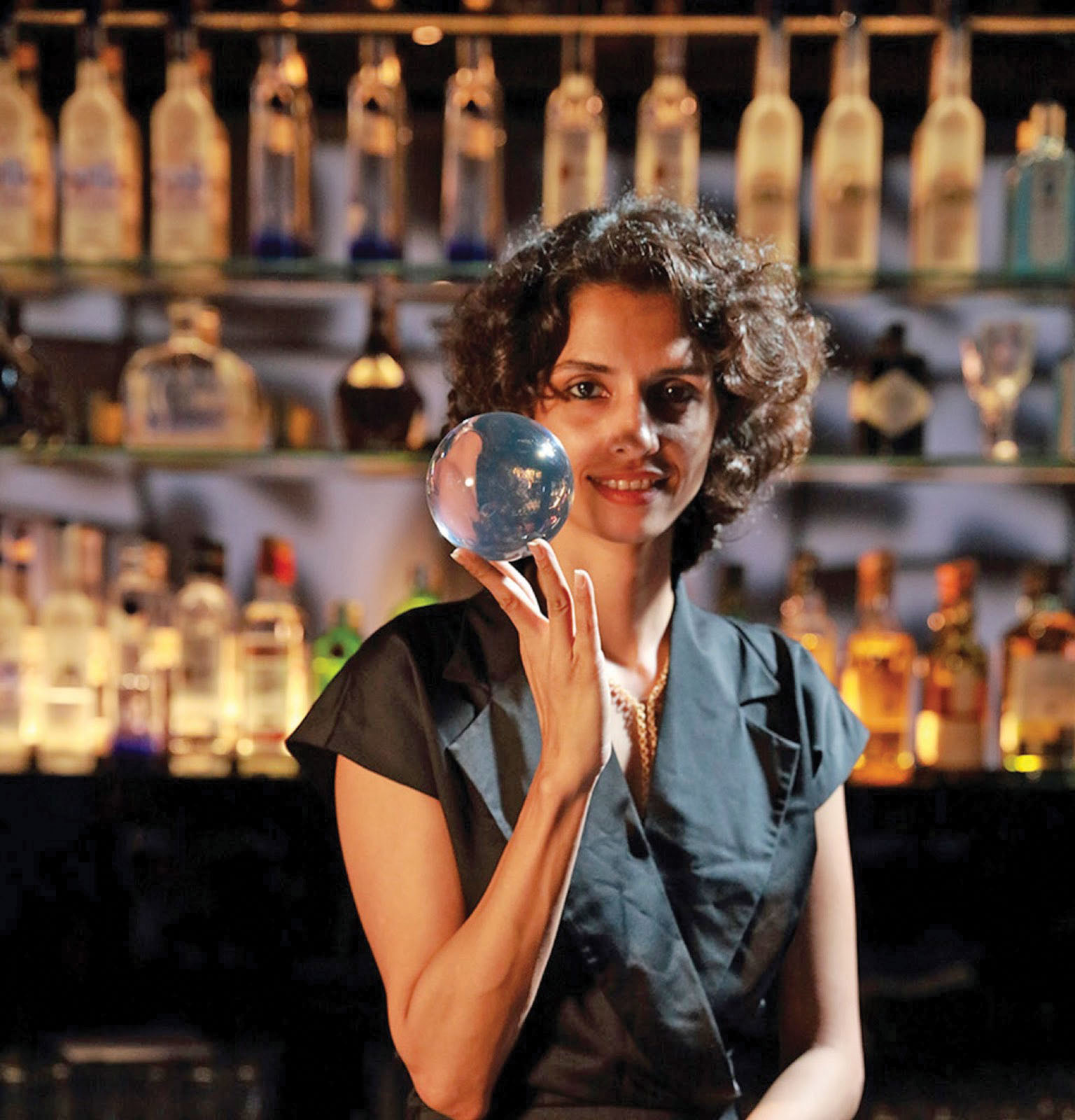 Ami Shroff started her career in 2003 at the age of 18. Since then, she has never looked back. Today she is one of India's few women flair bartenders who is sought after for special events and gigs. If that's not enough, she is also an accomplished mixologist which makes her a complete professional at the bar. She has managed to perform at over 20 destinations across India and beyond the borders, at over 1000 events, from backyard pool parties to elite corporate functions and conferences. Ami also curates cocktail menus for some of the most acclaimed establishments and has starred in the Netflix documentary Midnight Asia, depicting the mixing of drinks into performing art.
Cindy Lalramngaihzuali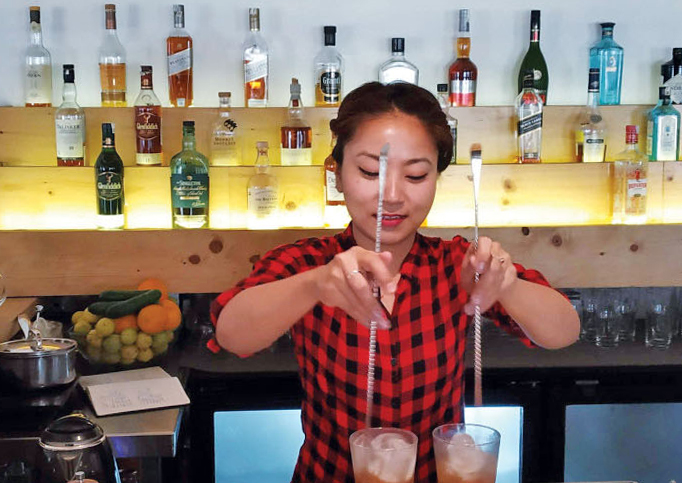 Cindy Lalramngaihzuali started her career in the F&B industry in 2015. After working in different departments, she got inspired after working behind the bar at Ek Bar in Delhi. Later, while doing a bartending course, she started working at Piso 16. After working for a month, she moved to Perch Wine and Coffee Bar, Delhi and takes care of Hoots' cocktail bar there. One of her favourite cocktails is Hanky Panky – a spirit forward cocktail with gin, vermouth and Fernet Branca. Cindy considers her mother and grandmother as her biggest inspiration.
Sonam Rai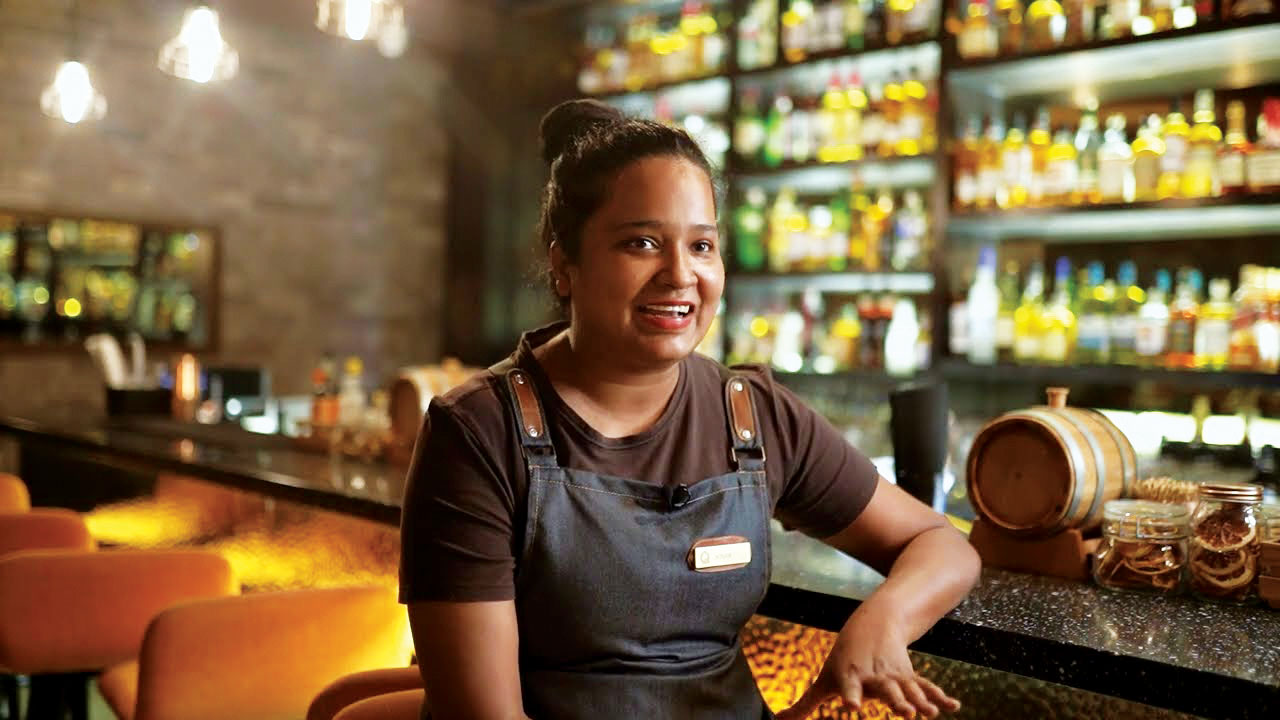 Hailing from a small town in Bihar and having no professional background in mixology, Sonam Rai is a hands-on and quick leaner of the craft. She credits he stint as an assistant bartender at GVK Lounge, Mumbai International Airport for her skills, where she picked up everything she knows from the Bar Manager Abhinay Patil. A big fan of dehydrated fruit garnishes and citrus drinks, try one of her grapefruit creations like the Bloody Habanero Margarita or Gin Grapefruit and Basil Ginger ale. 
Arati Mestry
Arati Mestry's journey towards being a bartender started with an impromptu cocktail competition in college and with a part-time job at a friend's bar on weekends. After switching jobs, Arati took a small break to find a good workplace, and within some time landed a stint with BYG Brewski Brewing Co in Bangalore. She got her first job in the pre-opening team in Planet Hollywood Beach Resort, Goa, and then moved to Elephant & Co. Pune which, she considers, was a turning point. Currently she works with Seven Rivers Brewing Co, Taj Group, as a bar manager. Some of her accolades include being runner-up in the American Whiskey Legacy 2020, winner of the Jameson Barrelmen' Face-Off 2018 (1st Edition), and national finalist in several competitions like the Campari Bartender Competition Asia 2019 – Top 5, the Monkey Shoulder Ultimate Bartender Championship 2019 – Top 5, and the Beluga Signature Bartender Program 2019 – Top 30.