As the industry moves towards sustainability, efforts are being made by global giants to get Carbon Neutral. While majority of this push is still focussed on packaging, SOURCE Global, a Bill Gates funded Public Benefit Corporation is harnessing the energy from the Sun and converting it into premium drinking water. SOURCE has already worked with Diageo on their product Godawan Whisky. In an interview with Ambrosia, Manu Karan, Sr. Vice President, Business Development, Middle East & South Asia, SOURCE Global, PBC speaks about the technology, the products in the industry and more. Excerpts:
What is the SOURCE Hydropanel technology and how does it work?
Access to safe, clean drinking water is a fundamental human right. That's why SOURCE is on a mission to perfect drinking water for every person, every place, regardless of their location or socio-economic status.
Rather than extracting water from the earth's water table, SOURCE Global's technology – called the Hydropanel – uses the sun to draw pure, endlessly renewable water vapour from the air and transform it into premium drinking water. Solar photovoltaic-powered fans draw air into the Hydropanel, where a proprietary material absorbs pure H20 molecules and then releases them as water vapour. The off-the-grid technology creates optimal conditions inside the panel to condense water vapour into liquid, which is collected in an onboard reservoir, mineralised with calcium and magnesium, and delivered to homes, businesses, and bottling operations using flexible piping.
With this one technology, we are creating a renewable, sustainable source of drinking water – virtually anywhere in the world – for conscious consumers, communities that have no access to safe water, and companies looking for sustainable solutions. Here in India, SOURCE water will serve as an ingredient in Godawan, Diageo's artisan whiskey. Godawan will be the world's only whiskey made with water tapped from the sky and harvested using the sun, all in support of the Diageo's commitment to sustainability and the Rajasthani ethos of "beauty in scarcity".
Ground water and borewells globally are not in a good condition and India is not different. What sets SOURCE apart?
While climate change and contamination challenge the world's freshwater resources, we're tapping premium drinking water from an abundant and endlessly renewable resource. SOURCE starts pure, stays pure, and is balanced with the perfect blend of minerals for health and taste. We make drinking water locally, for the people and places that need it most, ending the need to treat water, package it in single-use plastic bottles, and transport it from far away. With Diageo we are stewarding industrial water to be used in the production of the artisanal whiskey, all while, alleviating stress on the local ground water and borewell sources.
What is the estimated installation site for the panels? For instance, for the 27,000 litres that you have put up for Diageo in India?
The SOURCE system is infinitely scalable, from single homes to entire businesses and communities, and we design water farms and arrays to meet unique customer needs. The water farm (similar to a solar farm) that supports Diageo's artisanal whiskey production will be in Alwar, Rajasthan. Initially, the installation is expected to generate 9,000 litres of water within the first six months and will further scale up to produce around 27,000 litres of water per month after a year; in around 2000 sqm area.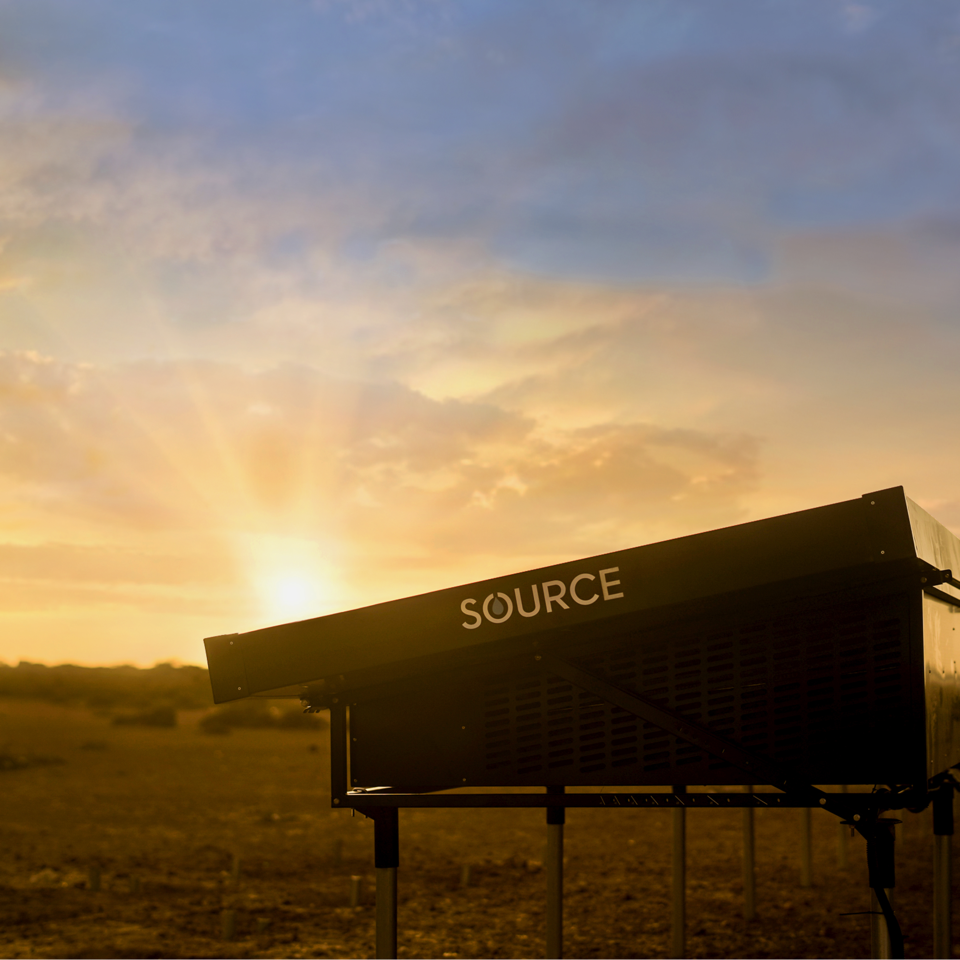 How cost effective is this process? Also tell us the sustainable aspect of the Hydropanel?
SOURCE is revolutionising everything we know about drinking water. The system is powered by the sun and taps into a constantly replenished resource, making it an efficient, entirely renewable technology. There are no pumps, pipes, electrical lines, treatments plants or processes like desalination, which requires 10-13 kilowatt hours of energy for every 1,000 gallons of water produced, creating significant costs and carbon emissions. This is truly renewable drinking water infrastructure that replenishes, rather than depletes, our natural resources, which is aligned to Diageo's Society 2030: Spirit of Progress plan. The same infrastructure is used to offer a premium, great-tasting sustainable whisky.
Our internal studies from existing projects across the world have shown that a project of this size – 27,000 litres/month – would directly reduce over 19.4 million litres of water extraction over its lifetime, and indirectly displace the use of more than 4.8 million single-use plastic bottles over 15 years.
What happens when there are issues of sunlight?
The Hydropanel is based on solar technology, which means that it performs the best when the sun is shining, like in the sunny Alwar region – where Godawan whiskey is made. But the system is also designed to work across a wide variety of applications and climates, making it unlike any other drinking water technology.
What is the life of Hydropanels and what kind of maintenance do they require? Can the locals be trained in operating and maintaining?
We created our technology, and our business, to serve everyone who needs quality drinking water, whether they live in a water-stressed community or are looking for premium, renewable solutions. We offer a low-maintenance, long-lasting solution with a 15-year lifespan. Around the world, we hire and train local people to operate and maintain our water farms, creating not just a sustainable source of drinking water, but also local jobs.
In how many countries are you operational and are governments looking at this technology to address water needs in water-stressed geographies?
In 52 countries, we work with consumers, governments, national and international NGOs and businesses of all sizes.
SOURCE is incorporated as a Public Benefit Corporation and in India, on example is our installation at the Zilla Parishad Primary School Kolpimpri. This project was born out of the Village Social Transformation Foundation's work to bring access to clean, drought-resistant drinking water to school children, and is part of the local government's initiative to align villages in Maharashtra with the UN's Sustainable Development Goals.
The company also creates drinking water for businesses looking to reduce their water extraction, or that work in places where clean water is scarce, must be trucked in, or is available only in single-use plastic bottles.
Does the water tapped through this technology elevate the 'whisky' per se?
To support, Diageo's commitment to sustainable, luxury products and experiences, we've provided technical expertise that complements Diageo's artisanal brand and serves as a powerful representation of Diageo's deep commitment to sustainability.
Why did you think of using SOURCE as against the soft water that is traditionally used for making whisky?
At Diageo, we have a responsibility to grow our business sustainably from grain to glass. Our partnership with SOURCE Global, PBC will help produce premium water which reflects the unique terroir of the region while saving groundwater which is aligned with the craft philosophy of born good, made good and serve good.
How is SOURCE supporting you on the sustainability mission? Are there plans to implement SOURCE water in other brands.
'Society 2030: Spirit of Progress' is our 10-year ESG action plan to help create a more inclusive and sustainable world. We have set ambitious targets aligned with the United Nations' Sustainable Development Goals including accelerating to a low-carbon world and preserving water.
Since SOURCE Hydropanels also operate off-grid and without electricity or traditional piped water infrastructure, it will help reduce the carbon emissions associated with treating and transporting potable water. In addition, it will help us take a step forward in our sustainability journey by saving groundwater and being a part of the solution in water-stressed geographies. Godawan will be the first beverage alcohol brand to use SOURCE water and we will explore brand synergies and consumer preferences.