The late English author Gilbert Chesterton once wrote: "Let a man walk 10 miles steadily on a hot summer's day along a dusty English road, and he will soon discover why beer was invented." He's right, of course — there's something about the combination of the warmest season and an ice cold brew that just works. Summer in Delhi is unbearable and we do not have an opposition for this. And, how most of us beat the heat is by gulping down frosty and flavourful beers. Delhiites can now rejoice as India's popular beer brand Bira91 brings you a range of four new limited-release beers – Bollywood IPA, Kokum Sour, Brown Ale, and Mango Lassi – as part of their 'Imagined in India' initiative. Team Ambrosia was part of the preview tasting, hosted on April 07 2022 at the beautiful QLA, in Mehrauli, Delhi. The tasting was followed by dinner, curated by Chef Vicky Ratnani, and a live music set by DJ MoCity and DJ Nida. It was what we call a perfect dreamy evening filled with all the finer things in life.
A melange of flavours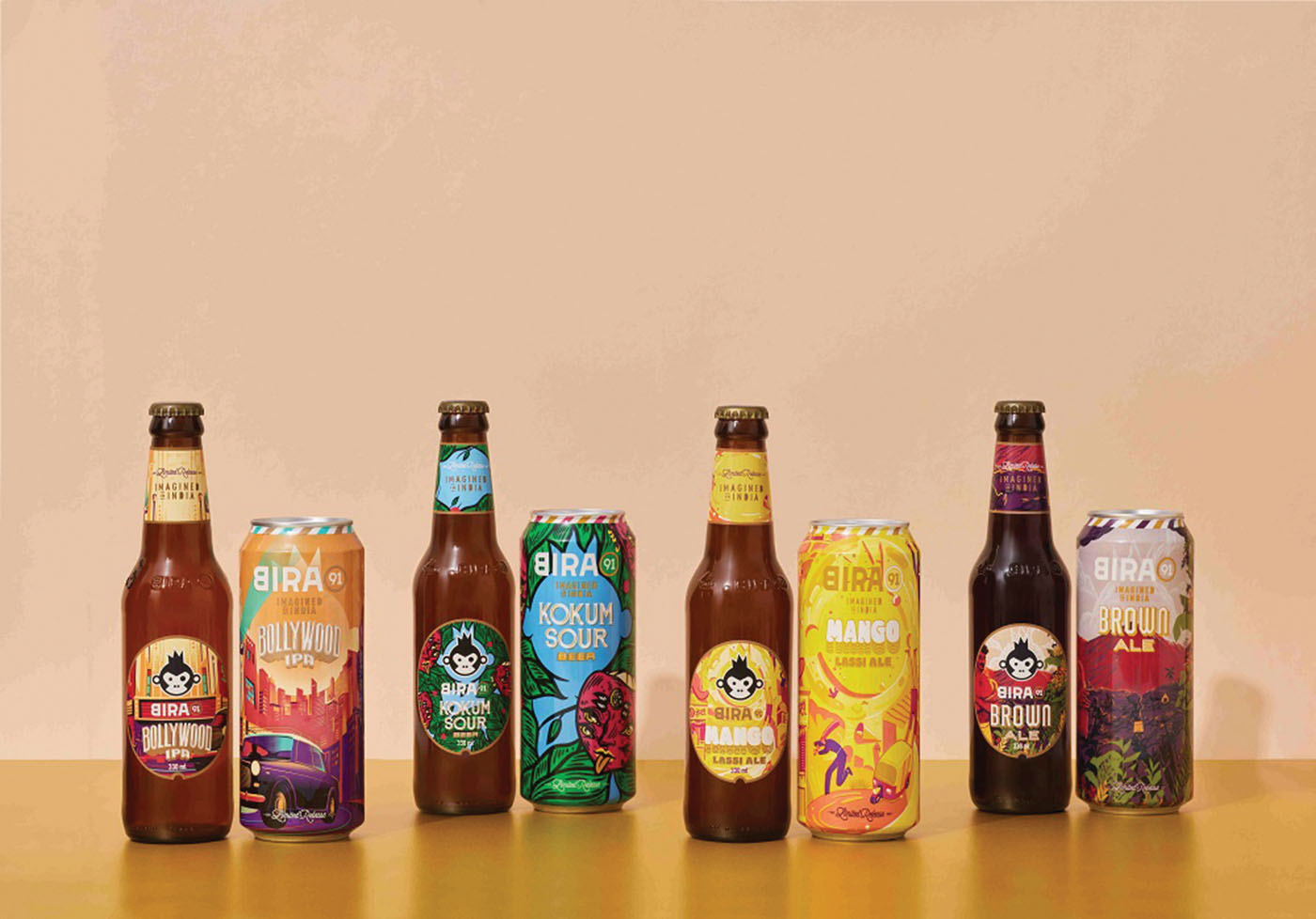 The 'Imagined in India' beers are made with indigenous products and are inspired by the raw creativity of today's India led by emerging artists, entrepreneurs, and startups combined with the cradle of flavours that find a home here.
The Bollywood IPA variant has a tropical twist, inspired by west coast India Pale Ales that were born in California, while Kokum Sour has traditional ingredients from the Konkan coast. We loved the Brown Ale – a blend of English Nut Brown Ale and the Antwerpian Amber with notes of coconut and vanilla. Fans of lassi would appreciate the taste of their Mango Lassi version that merges its Wheat Ale and a milkshake beer into one.
Ankur Jain, founder and CEO of the company, said, "For this generation of consumers, beer means flavour, and we deliver on that promise. 'Imagined in India' is an attempt to bring together the many flavours of India and its creative energy fuelled by emerging artists, entrepreneurs, and startups. Each beer is brewed with unusual ingredients – local and seasonal – which makes them unique."
He further added, "Each of these flavours originated at the Bira 91 Limited-release Taproom at Koramangala, Bengaluru, where they received tremendous consumer love and affinity. The flavours were voted as the top-ranked choices by beer lovers, which inspired us to bring them to consumers across the country."
Earlier, back in 2021, Bira 91, in collaboration with non-alcoholic drinks brand Svami, had rolled out Cucumber flavoured Kölsch. The Bira 91 x Svami Cucumber Kölsch is brewed with pure German Pilsner malt, a fresh cucumber flavour and the delicate caress of the finest German noble hops, with an IBU of 18 and an ABV of 6%. It is a crafted blend of bitter-sweet notes and cool cucumbers creating a crisp, balanced, and revitalising beer.
Staying true to the brand's playful image, Bira 91 encourages consumers to be more experimental and creative, while exploring new flavours in everything, including the beers that they drink. The new 'Imagined in India' range is yet another exciting testament to delivering on that promise.
Collaborations for community growth
To bring alive the flavours, Bira 91 has collaborated with Kulture Co, a curated platform spearheading the new wave of Indian Graphic Art across borders. The brand on-boarded contemporary Indian artists from the Kulture Lab – artists who are breaking the mould and taking modern India to new frontiers – to conceptualise and design the packaging of the four new flavours.
Channelising their art and creativity on a new canvas, artists Ranganath Krishnamani, Osheen Siva, M. Sajid and Prince Lunawara showcase a vibrant palette of local stories around shared identities painted onto these beer cans, paying homage, and narrating the story of our home country.
Commenting on the idea behind designing the packaging of Bollywood IPA, artist Ranganath Krishnamani said, "Conceptualising the packaging of a flavour so bold and dynamic, that it takes you to the heart of Mumbai, where all things Bollywood originated, was truly exhilarating. Incorporating the charming art deco cinemas in Colaba, the iconic 'kaali-peeli' cabs, and the vintage colour scheme was the perfect way to capture Bollywood on a can."
Designer of the Kokum Sour packaging, Osheen Siva, too expressed his thoughts behind the masterpiece and said, "Kokum is a tangy flavour, as Indians have developed a taste for since childhood. To depict a taste so loved yet so new to the beer industry was exciting. I conceptualised it to be something offbeat and loud. For me, the can had to give consumers an idea of what they were picking up from the rack when indulging in a Bira 91 Kokum Sour Beer."
"Imagined in India to me is being authentic, raw and connected to our roots. Capturing the taste of Brown Ale that recognises uplifts and celebrates diverse communities of India and having the essence reflect in the artwork on the packaging was a great experience," M. Sajid, who designed the Brown Ale packaging, enthused.
Prince Lunawara, who creatively illustrated the Mango Lassi can said, "India loves mangoes and merging the flavour with beer is as creative as it can get. Through the can, my idea was to celebrate this creativity and the beauty of India's flavours."
The limited release beers will retail in metros like Delhi, Mumbai, Bengaluru, and Pune.
According to Expert Market Research, the India beer market stood at a value of nearly 371 billion in 2020. The industry is expected to reach approximately 662 billion by 2026, rising at an estimated CAGR of 9.2% during 2022-27.