KALS Group, Southern India's alcobev company announced the launch of Sparta – India's most admired premium grape brandy.
Sparta is an authentic French VSOP brandy that has native elements of authentic French grapes from Cognac Region, which is matured to the tune of 3+ years.
Deriving its name from ancient Greece – A city in the southern Peloponnese in Greece, capital of the department of Laconia; population 14,400 (est. 2009). It was a powerful city state in the 5th century BC, defeating its rival Athens in the Peloponnesian War to become the leading city of Greece, Sparta embodies the exceptional French style of making heritage and the expertise. Sparta is known for its winning spirit and Sparta of KALS is expected to be the curtain raiser for well-informed connoisseurs!
Sparta is made from carefully selected grapes from the best Indian vineyards which are then double distilled in small batches using traditional French alembic pot stills, to produce a liquor of exceptional smoothness and character.
Sparta is a modern take on a French classic using some of the best southern French grapes, copper pot stills for distillation, and French oak barrels for maturation, all under the direction of Master Distiller. The result is a very special blend with honey blended caramel notes of fresh fruit, vanilla, and a hint of the oak. The brandy can be enjoyed on the rocks or to add some flavour to a signature cocktail.
SPARTA- UNIQUE VALUE PROPOSITION
Sparta is the first authentic french-style brandy to be 100% made from grapes of Cognac region. Nothing else and nothing less then the timeless savoir faire of french double distillation making. since it uses grapes only from the best vineyards of France, Sparta is the first to reveal such an aromatic intensity. Unlike others, it relies on the time-honoured savoir faire of brandy making in small alembic copper pot stills. It is then aged in oak barrels and carefully blended by the cellar master. with its subtle gold colour, Sparta is the perfect harmony of mature and intense aromas. Discover its delicate notes of summer fruits and vanilla coming from the oak barrels. On the palate, its texture is as smooth as silk.
Enjoy it neat, on ice or with your favourite mixer.
Sparta is aged in small French oak barrels under the supervision of French Master Blender imparting a smooth and distinctive taste, exceptional aromas and a complex character of a cognac – style brandy with a long finish. Keeping up with the tradition of French Cognac making, the master blender has developed a unique recipe guaranteeing excellence in every drop.
Chairman & Managing Director Mr. Vasudevan S of KALS Group said, "With this launch KALS takes its aggressive step into the world of spirits with a superbly crafted high end offering. We are confident that Sparta will win accolades and significantly raise the bar for brandy making in India. Sparta is India's first handcrafted cognac derivative – style brandy for connoisseurs – from the House of KALS."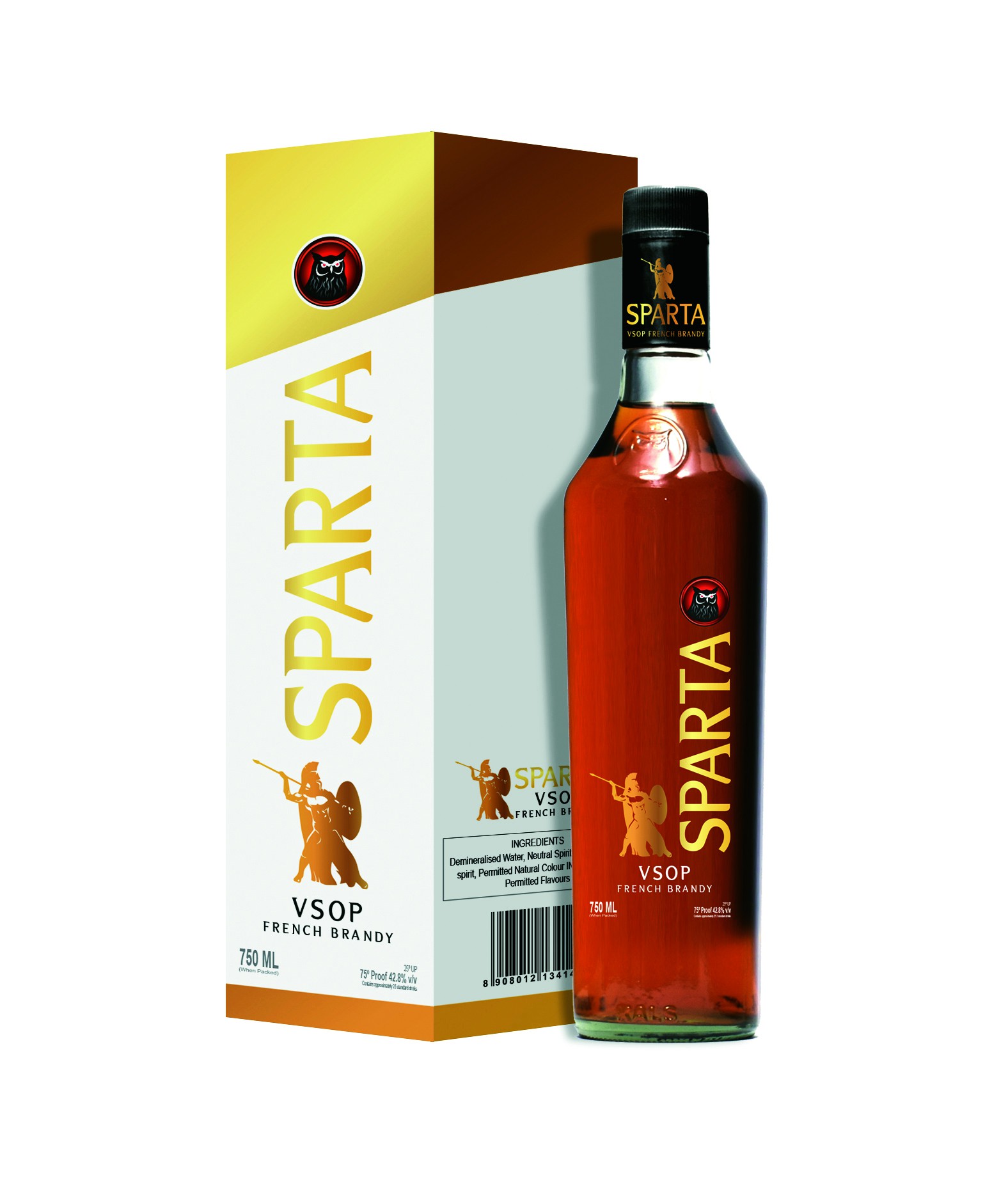 Sparta comes in premium packaging and bottle design inspired from the Mid-19th century with a transparent gold labels that shines & scintillates to captivate the eyes of consumer- Sparta a style known as 'standard fifth' or 'lettered brandy' with embossing. Sparta will be available initially in three SKUs of 750 ml, 375 ml and 180 ml.
According to Uppiliappan G, CEO, KAL, Sparta is priced at `640 in the Tamil Nadu market. For KALs MGM Brandy is the closest in comparison. However, Sparta is rolled-out in all southern states and expected volumes will be 30,000 cases per month initially, says Uppiliappan.