The Oasis Group has leveraged its experience in the alcobev busines to grow its IMFL business.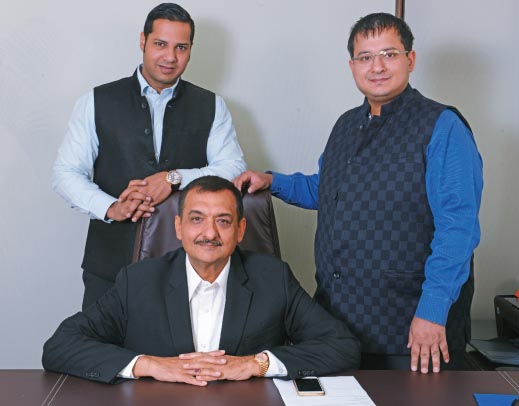 The Oasis Group of Companies started with a humble beginning by estabtishing its first distilleryry unit near Indore in the year 2001 and. since then, The Group has had a remarkable growth and. has emerged as one of the fastest growing liquor companies with five 'State of Art' grain based distilleies and. five bottling units of its own with a collective grain spirit productian of approximately 20 crores bulk litres per annum. The core strength of the Group is its international quality grain neutral spirit and its Indian Made Foreign Liquor Brands which have won a number of international accolades, recognitions and awards. Promoted by the Malhotra Group its founder Chairman Late Shri Omprakash Malhotraji was a visionary and an entrepreneur with a sound foresight and his only son and the present 'Chairman Emeritus'- Mr. Deep Malhotra carries with him rich expeience coupled with sharp commercial acumen, aggression and in-depth understanding of the alcohol industry. Mr. Deep Malhotra takes keen interest in mentoring and guiding the Senior Management and it is his zest and zeal, which has helped the organisation to reach the dizzy heights. A popular entrepreneur from Punjab Mr. Deep Malhotra in his pursuit to contibute to his home town Faridkot, entered politics and was elected from the Faridkot Constituency as MLA from 2012 to 2O17. A number of welfare measures and corporate social responsibility activities were carried out during his tenure in his constituency. While Mr. Malhotra is the guiding spirit of the business, his two sons Gauravh Malhtora and Gautam Malhotra infuse fresh energy into the business and helps him in the day to day running of the company. Today the Oasis Group is a growing conglomerate having diversified business operations in the field of distilleries, hospitality, exports, government contracts and diamond jewellery.
Mr Gauravh Malhotra -The eldest son of Mr. Deep Malhotra assists his father in the Punjab retail, wholesale. and distillery operations, while his younger brother assists his father in the Delhi and Haryana operations. Both Gauravh Malhotra and Gautam Mathotra take active interest and participation in new product launches, developing new markets, marketing and advertising and social media.
Mr. Satish Sood, a childhood associate of Mr. Deep Malhotra and Mr. Trilochan Singh both Directors of the company take active participation in the day to day affairs of the company and helps the company reach its organisational goals and key result areas.
Mr. Anit Vanjani – Chief Executiue Officer of the Group is a Chartered Accountant, Cost Accountant and Company Secretary by profession with more than 29 years of financial and commercial expertise, contributes to explore new and innovative areas and is the key person in the turn around of the Group. Mr. Vanjani has been instrumental in carrying the organisation to a.'New High'.
Mr. C.S. Biju Vasudevan – Group President is a post graduate in Management (Frorn IIM) and Economics and carries with him more than 29 years of liquor experience. He has been with the Group since its inception and is a strong pillar of the Group. He has been instrumental in conceptualising, designing and introducing a. number of international quality brands. He has an in-depth understanding about the pan India IMFL markets and is in close pursuit in making All Seasons Whisky a national brand.
In recognition of the Group's commitment for exports especially to the African region, the Association of Chamber of Commerce and Industry in India (ASSOCHAM) has recently recognised and awarded two prestigious awards for the most outstanding achievememt in food processing and the second award for the top performing SME in India – Africa food processing sector.
According to Mr. Deep Malhotra, the production of ENA will also form an important part of the business because of the Indian government's initiative to blend petrol with ethanol for economic and eco friendly reasons. Frorn a target of 5% blending the government has raised the bar to 2O%. This underlines a huge demand for ethanol in future. Mr. Deep Mahotra also adds that while the government is giving a fair price to the ethanol manufacturers, it would also save and protect the sugar mills from financial distress. Oasis Group has also received permission to set-up an ethanol plant using molasses. We are awaiting the environmental clearance and shall immediately proceed to commission the plant at the earliest.
The Group has recently launched its flagship brand All Seasons Connoisseurs Collection Reserve Whisky, OPM Triple Distilled Luxury Spirited Russian Vodka and Oasis London High Triple Distilled Luxury English Vodka. OPM Triple Distilled Spirited Luxury Vodka has already won 19 international awards and is fast catching up to be a leader in its segment. All Seasons Whisky is blended out of Imported 'Vatted Malt Scotch' sourced from Scotland, and has been a run away hit in all the markets it has been launched. Presently these brands have been launched in Delhi, Punjab, Chandigarh, Haryana, Himachal, Rajasthan, Uttar Pradesh and is in the process of being launched in Madhya Pradesh, Chhatisgarh, Andhra Pradesh, Telangana and Kerala in the coming few months.
Within a short peiod of three years, the Oasis brands have established itself amongst the top three IMFL brands in Kerala and last year the company has achieved a sale of more than 1.2 million cases. Last year the Group started supplying whisky and rum to the prestigious Canteen Stores Department for supply to its esteemed Indian Armed Forces.
The group has a judicious mix of technocrats and management experts who steer the company professionally.
GROWTH DRIVERS: Expansion and constant modernisation with an eye on operational efficiencies, which has helped to reduce power and fuel consumption, improve fermentation and distillation efficiency, international quality grain neutral spirit and value for money grain based whisky, vodka, brandy, gin and rum.
CORE STRENGTHS: Pan India distribution network concentrating on high quality products, delivery and consistency. Export of grain neutral spirit worldwide, undivided focus on key business areas and has a judicious mix of short and long term business plans.
FUTURE PLANS: Foraying into untapped domestic and overseas markets, doubling production capacity with the addition of a new State of the Art distitlery in U.P. and expansions at its Punjab, Haryana and. Madhya Pradesh distillery units, thereby doubling its spirit capacity and production of country liquor and IMFL.
GOAL: Increase the market share of its IMFL brands and double its turnover in next three years. Introduction of a 'Value Scotch bottled in origin' for its connoisseurs, pan India. The Oasis Group is all confident in taking a giant leap forward and face the challenges with its in-depth understanding of the markets and its confidence on its world class Indian Made Foreign Liquor brands by offering its connoisseurs value for money both in terms of quatity, price, and delivery.