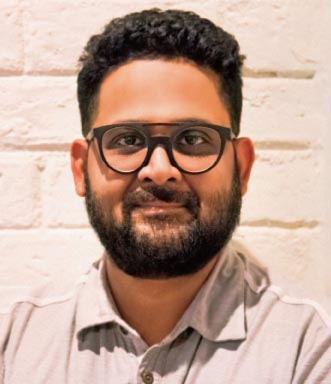 Prasanna Natarajan, Founder, HipBar recounts his foray into Ecommerce after his stint of marketing his own brands in the IMFL segment.
How would you describe the Wallet for your drinks? HipBar is an RBI authorised mobile wallet that is intended for use by the legal permissible age consumer. Due to the nature of the digital currencies, it naturally lends itself to value additions in terms of remote identity and age verification, which are critical for the corollary payment and delivery services offered to liquor retailers. The fungibility of the digital currency, make it possible for HipBar to orchestrate a wide range of online collaborations and the opportunity for brands to participate in interesting consumer engagements in a digitally connected world.
What has been the progress made on the Hip Bar project till now? HipBar has made decent progress, since incorporation in 2015. After being in stealth mode for over two years, HipBar launched services in a small way in Bengaluru and Chennai. We have made advance developments in the non-consumer facing back-end technologies, and many of which is yet to hit mainstream. We are commercialising some of the solutions in the coming months.
What has been the response to Hip Bar from the industry and users? We have a fair share of the industry's support by virtue of having over 75% of the relevant brands in the market being part of our platform. We are looking to engage and welcoming the remaining brands also. On the customers side, we have over 200,000 patrons who use HipBar in the markets we operate in and we are talking only about the pilot scale in which HipBar is functioning currently. On the fulfillment side, we have over 150 retailers who are part of our payment network. In addition, we have 200 riders delivering delight and drinks to customers in the city of Bengaluru.
What are the major problems faced from the State's excise department? There are no major problems. Since the concept is new to India, it takes time for excise departments to process the information and start taking decisions. In any case, alcohol home delivery is not a priority area for them, but we present governments with a compelling use case. We believe in shaping their views to the reality of what's going on around us in terms of digitisation and helping them to take the decision to support a concept like HipBar and make them feel reassured about it.
What is the nature of your tie-up with Diageo? Diageo India is an investor in HipBar and they hold 26% in the company. Diageo brands will be the first amongst equals on the platform. All brands which pay the platform fee will have access to the slots in the application and receive a bouquet of services from HipBar. Diageo India has committed to a certain volume of business independent of the investment, as an outcome of the volume commitment, they will be entitled to receive certain beneficial rates. Free market principles will apply for business conducted on HipBar. It is a platform of skill and not might. Every brand will have the same set of levers to drive business, and as such no unfair advantage is handed to Diageo India on the platform.
With Diageo's involvement, will they be monopolising sale of their products Hip Bar? Not at all. There is no basis for such an apprehension. Diageo India understands technology, and have been gracious to understand our business and the need for it to be independent as a market place. They have world class brands, have a great franchise in India and don't need to block anyone to win. All our brand partners who we work with us for over a year, know us to be fair and equidistant. We will continue to be just the same way.
Do you see the Hip Bar venture as the beginning of E-commerce in the alcobev space? E-commerce in the conventional sense is not possible for the category given the trade structure in India and that most governments are themselves a part of the food chain. As a business, the team at HipBar is building a healthy channel through which the industry (including the retailers) and consumers can come together for commerce and engagement in a safe and secure manner. We are creating the digital infrastructure for the industry to use for the last mile delivery and nothing more. We only want to bring in better efficiencies through technology and this enablement has a proven track record of bringing savings and dividends to those who adopt it.
How effective is the app likely to be in terms of actual sales on the ground? I don't have a direct answer right now. In the technology world, 'scale' is the harbinger of all things good. After scale comes effectiveness and without it, there is no reason to exist. We are right now focussing on building scale, which is the logical first step. Effectiveness of the channel is yet to be quantified and can only come later.
How do you envisage the future of Hip Bar? We have taken the path of helping India drink wiser. We have said this before, and I say this again that our business interests will always be subservient to how HipBar is performing in the social sphere and if it is indeed bringing the intended benefits of technology to normalise the category and help people drink responsibly. It's not good enough for us to see higher transactions bereft of positive social impact. We wish to grow carefully and diligently and hopefully play a meaningful part in the digital transformation of the beverage alcohol industry.