With brandy being the favourite tipple of the South, little wonder Accord is moving into the Cognac space as the shift to premium becomes the norm of the industry.
Chennai based, Accord Distillers & Brewers Private Limited, with two distilleries in Goa and Chennai, and a manufacturing capacity of 1 million cases per month, and one of the largest beer producer in South India is making its presence felt across the Indian States and is exporting to South East Asia, West Asia, Africa and other countries. They also import Scotch and Cognac to sell across the Indian subcontinent and to export to other countries and are now venturing in production of high-end Cognacs.
They have allied with Carlsberg to produce and market their commodities in Tamil Nadu and throughout the country.
Henry X special reserve Brandy XO is the latest offering from Accord Distilleries. It is the world's first XO brandy and is currently available at select outlets in Tamil Nadu, Puducherry and Goa.
Henry X special reserve Brandy XO – a brandy with floral notes, with an opening nose of vanilla, honey and prune that evolves to mellow wine, sweet oak accents and finishes with a satin-smooth, languid fade. Bestowed with a revered lineage and backed by an equally legendary status, the House of Bardinet has set the benchmark in creating the perfect French grape brandy.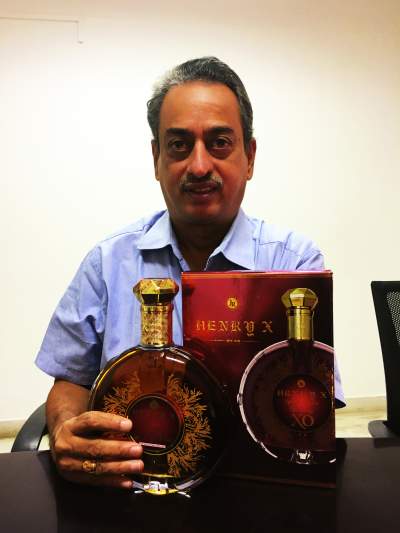 Right from handpicking the choicest of grapes from the finest vineyards in France to distilling the spirits and maturing them for 5 years in fine oak casks, Henry X special reserve Brandy XO weaves its lingering magic on the discerning palate, says P. K. Das, CEO, The Accord Group.
Sure enough, Henry X special reserve Brandy XO promises to be a Connoisseur's Delight and is priced at `2,400 the most highly priced Cognac in Tamil Nadu, he adds. XO brandy is India's only 100% pure french grape brandy. It is being sold in mono cartons and the packaging is done in India by Manohar Packaging. The Cognac bottles are imported from China. As it is a high-end brand the target for Hobson's is 2,000 cases per month, says R Kumar, Director, Operations. The premium market growth is 33%.
Total sales in Tamil Nadu in the premium segment for the period April to August 2019 is 6.8 million cases as compared to 5.1 million cases during the same period in August 2018.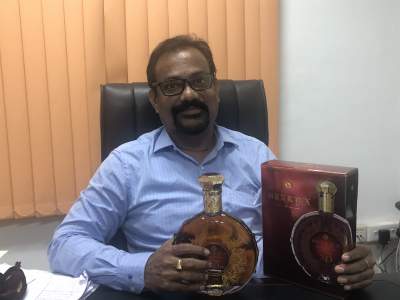 The company's other brands include Age de Oak (Premium), Holandas Spanish VSOP Brandy, Missionary Monk, Royal Accord Gold, Blender Magic, King Nap, Accord French, Wonderland, Accord No. 1, and Evening Walker.
Age De Oak is an exquisite blend with imported matured french grape brandy, which is produced by double distilling the wine made from selected variety of ugni blanc french grapes in a copper pot still and superiorly Aged in Limousin Oakwood cask to give a brilliant amber colour, mellow, full-bodied, long warming and silky soft mouthfeel. Total growth in this premium segment is 2% with sales of 4,500 cases during April to August 2019.
The Holandas Spanish VSOP brandy blended with imported grape spirit from Spain, that is fine distilled in a copper still and traditionally aged in oak wood casks to excellence to give you rich colour, overpowering aroma, fuller and smoother mouthfeel.
A rare blended with selected grape spirit to give it brilliant colour, a pleasing aroma, strong body and mellow. Holandas Spanish retails between `201 to `280 and sales for five months is 52,000 cases. Their other brands are Missionary and Royal Accord Blue.