It has been a long innings for N. J. Menon, here he shares the high points of his career. He has now formed a new company NJM Blends.
NJM, as he's known amongst his friends, has six decades of experience in the Indian Alcohol industry and can undoubtedly be touted as one of the change-makers in the business.
N. Janardana Menon began his career as a chemist in 1959, at the first McDowell & Co. Distillery in Shertallay, Kerala. His unique technical acumen saw him rise to the rank of Unit Head. Subsequently, he became the Technical Director of the UB Group Spirits Division in 1977.
Armed with a sensory superiority that is a privilege of only a chosen few, he moved to Bangalore in 1988 as Vice President-Technical of the UB Group. Here, NJM successfully set up a world-class Technical Centre with CSIR recognition for Chemical & Sensory Analysis, Quality control, Product Development, Training and R&D facilities. He was also instrumental in formulating a Quality Control manual for the Distillery division of the Group.
Perfection, precision and passion are among a few of the key attributes that that has truly shaped NJ Menon's journey. In addition to the years of invaluable experience, training and learning through collaborations from around the world, NJM has amassed an unparalleled knowledge of brewing technology and blending craftsmanship. This exposure has allowed him to evolve his palate, producing unique blends for the Indian and international market.
McDowell's Single Malt, McDowell's No 1, Bagpiper, Diplomat, Signature, Gold Riband, Caesar Brandy, Honey Bee brandy, Celebration Rum, Old Cask Rum, Royal Treasure White Rum, Blue Riband Gin Duets and Romanov Vodka are just a few of the 300+ blends that NJM has developed during his career. He was also associated with the development of Black Dog 12 Year Scotch Whisky.
One of India's most prolific and acknowledged blenders, NJ Menon also holds the unique distinction of having a model installation of his hands at the office of United Spirits, Bangalore.
After a successful tenure, NJM retired as Executive Vice President – Technical of the Spirits division in 1999, but continued as Technical Advisor to the UB Group till 2013.
But retirement only meant the beginning of a new chapter.
While working as a technical consultant to several distilleries, flavour companies and engineering firms, actively engaging in the development of blends, flavours, setting up of malt spirit plants and maturation facilities, he felt the need to do more. Having developed specialty products for clients, the time felt right for NJM to create his own legacy.
Thus, begins the story of Legion.
In September 2018, at the age of 82, Menon registered his flagship enterprise- NJM Blends, a labour of passion and perseverance. The first step towards the journey to create his legacy, the company released its first product in February 2019, a premium blended whisky named Legion.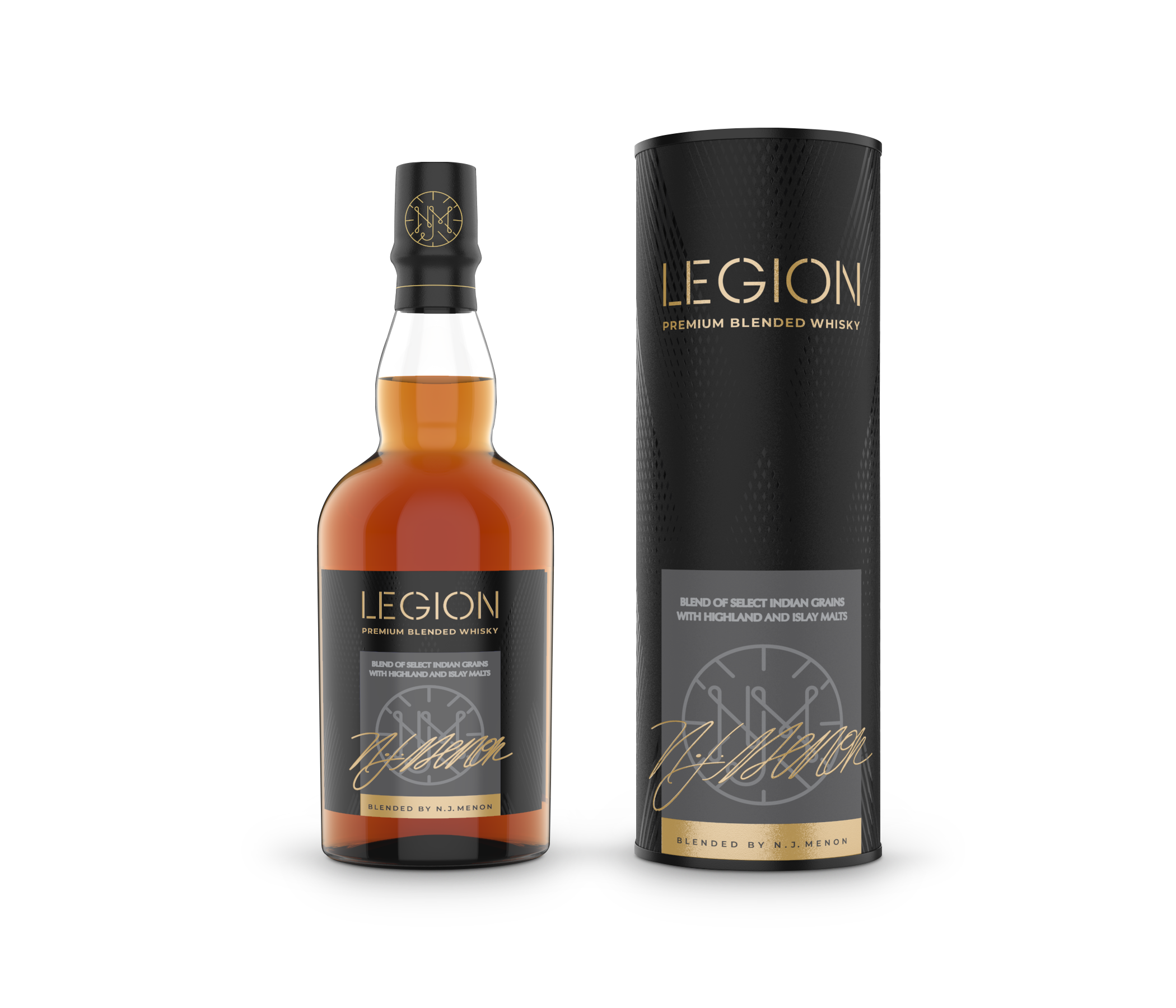 "After retirement in 1999, as a consultant, I developed a number of brands for various companies. Few of them became very popular and have now sold over a million cases. As a result, I was sought after by IMFL manufacturers."
"This got me thinking – I should have a brand of my own with my name associated with it. I wanted the product to be superior to any existing Indian made whisky and comparable to some of the Indian bottled Scotch whiskeys. Legion is the outcome of my ambition," explains master blender, NJ Menon.
Why Legion?
"Only a select few deserve a Legion", reads the product label, and this couldn't ring truer of the eponymous brand and its brand ambassador. A premium blend that is poised to raise the bar in the Indian liquor industry, Legion promises to be a sensory delight with delicate floral hints, hints of sweet cinnamon and an earthy peat finish.
Legion by NJM Blends is a story of pure passion, expertise and toil. A testament to Menon's love for the art of blending and his indefatigable 'spirit', Legion marks his step into the spotlight.
It is, therefore, only fitting to raise our glasses to the true legend and to us, his ever-faithful Legion.
N. J. Menon makes dreams a reality
Dreams can be achieved if you only continue to believe and strive to make them your reality. This has never been exemplified more than with the life of master blender N. J. Menon.
What are some of the key achievements in your career?
Over a career spanning 60+ years, I have created numerous blends for most of the leading Distillers and bottlers for domestic and export markets, including some of the most popular brands which have gone on to become "millionaires". As a blender, when a blend meets the customers' taste preferences and the same is reflected through the sales volumes, it is highly satisfying.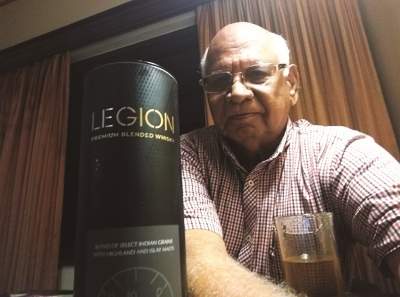 I was instrumental in the development of Gin 'Duets' and flavoured vodkas for the first time in India.
During my years with the industry, I have led projects for set up and commission of Malt spirt manufacturing and maturation facilities, too.
In addition, there are quite a few "key" achievements which are close to my heart. Undoubtedly, setting up the Technical Centre for UB's Spirits Division in 1988 would be one of the biggest – the centre was recognised and appreciated by CSIR for Chemical & Sensory Analysis, QC, Product development and R&D facilities. I was also actively associated with BIS in setting up of Standards for Alcoholic beverages. Leading the team which developed India's first Single Malt – McDowell's Single Malt Whisky – was another achievement I am really proud of.
What were the challenges to make the transition to entrepreneurship?
Since my retirement, I have continued as a technical consultant for various liquor manufacturers in India. While consulting cannot be compared to entrepreneurship in its true sense, there was always a desire to launch a portfolio of my own brands. A key challenge was to identify a production partner who will be with us for the long term, and we made progress towards that end in early 2018.
Once we got that out of the way, the finer details needed to be addressed: identifying the right agency for designing the packaging, and vendor partners for sourcing the packaging material, marketing communication, etc. For a person like me who has always focussed on the technical aspects of a product, these were interesting challenges to overcome.
The other challenge of course is finance, since we are currently running on our own steam, though many well-wishers have indicated their interest in providing funds for the venture.
Do you feel you have sufficient experience to take the brand and the company forward?
Absolutely, I wouldn't have ventured into it if I did not feel confident about it. As far as products are concerned, my experience of knowing the Indian consumers' taste, even as it changed over the years, will be a great advantage. Moreover, we see the Indian customer is now willing to experiment (and here I am not referring to liquor industry alone) and you cannot get a better time to launch a new product.
How is your product different from those in the market place especially in terms of quality, taste, colour which are your key strengths?
Legion Premium Whisky is an exceptionally balanced blend of Highland and Islay Malts and the taste is not something you will find in any of the regular Indian whiskies. We were clear we wanted to create a product for the discerning consumer, and the initial feedback has been extremely positive.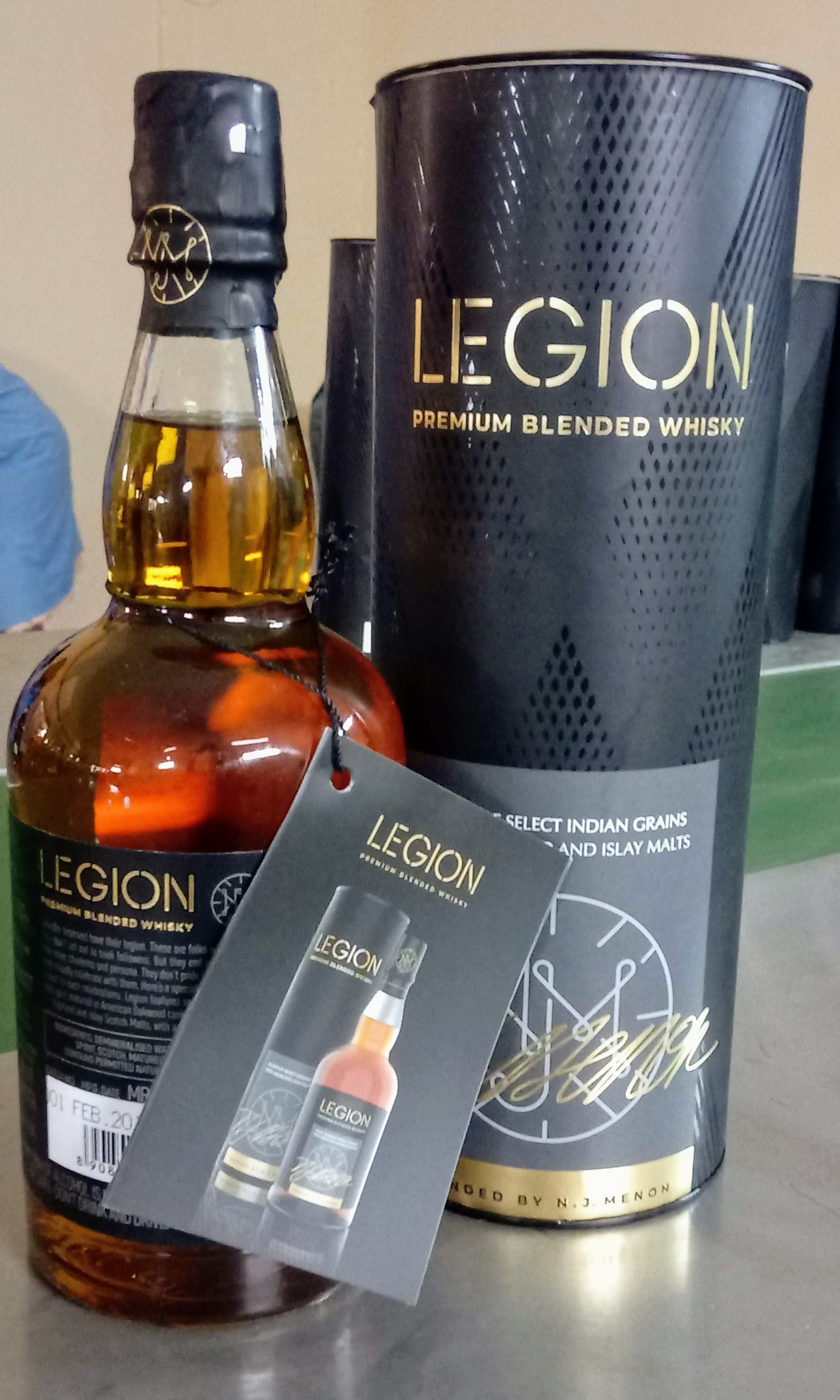 If you talk of the colour, too, Legion stands out with a strong golden-brown hue which is often seen only in leading Scotch brands.
What are your immediate goals for the company?
We would like to establish Legion Premium Whisky as the best in segment blended whisky in the country. Currently we are now in Goa, and before the end of the financial year we would like to roll it out to couple of other key markets too.
Do you see your branching into other segments of IMFL like Rum, Brandy, Vodka and Gin?
Well, the obvious answer is 'yes'. However, we would like to take it slowly and look at a few niche segments and therefore we will not be looking at a spectrum of products for the immediate future.
Are you looking at a pan India distribution?
Yes, absolutely. Again, we want to play it step-by-step and make sure we do justice in the markets we step into.