After spending decades as the leader of India's biggest spirit company, Vijay Rekhi is ready for a new innings with an investment in a new company Unibev, a joint venture with Globus Spirits Limited.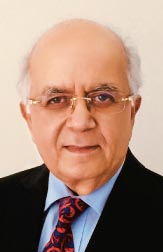 How was Unibev born and what is the equity structure of the company? Unibev was born out of the striking gap in the premium Indian whiskies market in India that was deluged with me-too products with cosmetic packaging differentiators. Every now and then international research throws up the premiumisation silver lining for the industry that has mostly grown at its belly. But no player including international players in India took up the challenge to create a highly differentiated and aspirational blend. We spotted this opportunity and conceived Unibev Limited as a platform for Premium Spirits offerings. Unibev is a start up in collaboration with Globus Spirits Limited where I have a stake of 10% in the venture.
What kind of investment you are making to develop these brands? And what is the expected gestation period? Investments to meet brand needs for development, placement and promotions are planned for different phases of launch. In Phase -1, Unibev is focused on the Southern Indian States for its whisky and brandy portfolio. We have identified high throughput outlets to ensure quick placement and movement of stocks. Southern Indian launch operations are funded through internal accruals. We hope to sell 100,000 cases by the end of year 1 in the market.
What synergies do you expect to attain from Globus Spirits? Globus Spirits is led by a highly experienced team in the beverage alcohol industry. The company has the largest grain based distillery in India which augurs well for Unibev's premium brands portfolio. Globus is growing 25% year on year. The company is cash positive. Unibev will draw from Globus financial stability.
Which are the brands that you have launched and do you have more in the pipeline? Also what are the price points of your brands?  In Phase -1 we have launched two Premium Whiskies and one Premium Brandy. Governor's Reserve infused with 12 YO Scotch in Semi Premium whisky category is priced cross lined to Royal Challenge and Royal Stag Barrel Select. Oakton Barrel Aged whisky infused with 18 YO scotch is priced cross lined to Blenders Pride and Signature Premier. L'Affaire Napoleon Premium Grape Brandy infused with 3 YO French Grape Spirit is priced cross lined to Morpheus and Kyron brands. We will also be launching whiskies with higher aged Scotch shortly. Premium Rum and Premium Vodkas are in the pipeline.
The market is crowded in all the segments, how are your brands different from those in the market place?  IMFL whiskies blended with 12 YO and 18 YO aged Scotch have never before in the history of Indian alcohol industry been offered to the consumers. IMFL Brandy with aged grape spirit is an equally rare phenomena for connoisseurs in India. We have had very encouraging response from retail and consumers wherever we have launched the products.
What is the distribution plan for your brands and when are you likely to be pan India? In Phase -2 we plan expansion in North, East and Western markets in a gradual and calibrated manner. We will look at 2020 window for national distribution.
What are the key objectives/targets for the company? Our vision is to offer aspirational Super Premium and Premium blends and brands cross lined to price and brand leaders in the market place to evolved and responsible consumers. To this end, we will continue to innovate and explore ramping up our portfolio with different IMFL and imported spirits categories
The market is highly regulated as well as competitive, what kind of challenges you are likely to face to push these products? Having insights of the spirits market and regulations, we will be compliant with all that is needed. As far as competition is concerned, in a growing market of Premium Spirits there is enough room for additional premium brands where consumers have a choice. Therefore, we will be in a position to meet challenges from competitors.