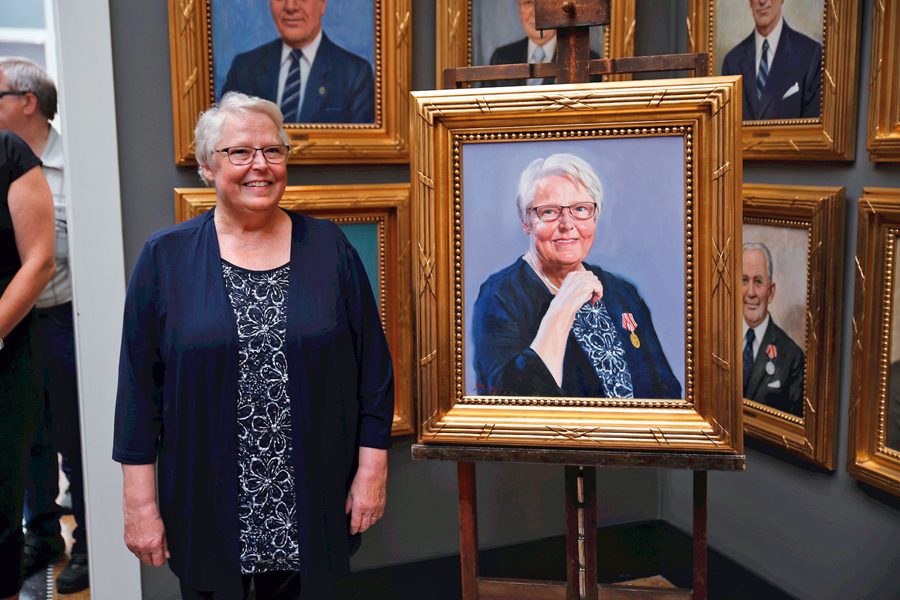 On August 1, Karin Dalgaard experienced something reserved for the few. 50 years at the same company. Recently celebrated at the Carlsberg Museum where Karin's anniversary was crowned with a handpainted portrait.
"I didn't walk through the doors at Carlsberg at the age of 16 and think this is where I would spend the rest of my life. But after my time as a trainee, where I was moved around in eight different departments, I got a job in our export department. I enjoyed it there and so the years passed by one by one," says Karin.
One year has over time turned into 50, and so Carlsberg celebrated Karin with a reception at the Carlsberg museum. Carlsberg has a long-standing tradition of honouring jubilees who celebrate 50 years at Carlsberg by hanging their portrait in the museum. Yesterday, Karin's portrait, painted by Danish artist Mikael Melbye, was unveiled as friends, family and, last but not least, colleagues gathered at the Carlsberg museum to toast to and congratulate Karin.
Speaking at the ceremony in Copenhagen, Karin said, "I'm honoured, overwhelmed and humbled by today's celebration and the recognition from Carlsberg and my colleagues. For the 50 years I have been looking at these portraits, I never imagined that my face would one day join them. They've always been special to me, so to see myself on the wall feels almost surreal."
The tradition itself started with Carl Jacobsen, son of brewer J.C. Jacobsen, who ordered paintings of those retiring employees that he especially valued. Characterising these employees was the fact that they had been employed by him most of their working life. Altogether, Carl Jacobsen had 5 paintings of former employees done.
The tradition was brought up again in 1928, but this time the paintings were ordered to honour jubilees, who could celebrate 50 years with Carlsberg. The majority of jubilees are men, with all sorts of professions. Karin is the 4th woman in Carlsberg's 171 years history that reach the 50 years jubilee, and the last time we had a 50 years jubilee was back in 2009.